Styling Tips for How To Wear Cami Tops: Chic Outfit Ideas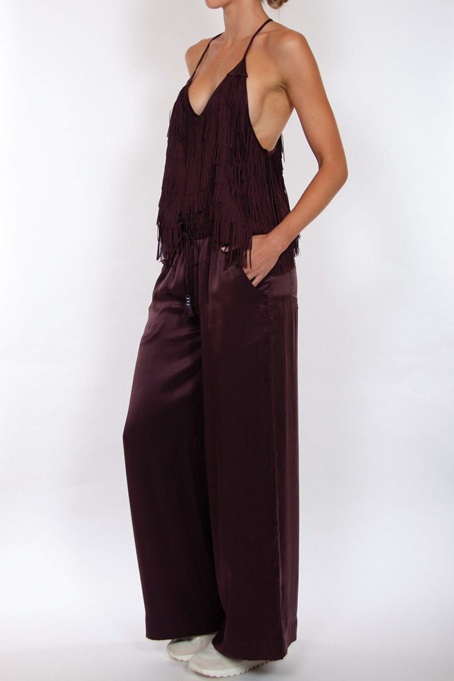 Cami tops are a total wardrobe staple – incredibly elegant, effortlessly chic and amazingly versatile, there's not much that a gorgeous cami top can't do! Now, because this closet essential is so stunning and so versatile, you're going to be getting an awful lot of wear out of it. In order to nab yourself a slinky, expertly made and classic cami, you're going to want to take a peek at some designer options. This way, you'll find something that's high quality, long lasting and eternally comfortable. Your cami of choice will be more than worth your investment once you have a quick think about the cost per wear – but if you're still not quite sure of the versatility of this piece, read on to let these chic outfit ideas do the convincing for you…
Bohemian Babe
The bohemian look has been a fashion favourite for, well, forever, and your silk cami is the perfect piece to start with when you have a craving for the eclectic side of style! Contrast the classic tone of your cami with a flowing lace maxi skirt. Layer on a crochet shawl, step into some chunky black ankle boots and layer plenty of shining pendants, gemstone jewellery and add a pair of statement hoop earrings. This is such a feminine and romantic look that's really perfect for any occasion!
Classic Chic
Timeless style will always look beautiful! Choose a neutral cream or black cami to get this one absolutely perfect. Wear it tucked into an A-line midi skirt in a lovely fresh linen or cotton in a matching tone. Step into some leather ballerina flats, pull your hair into a bun and add a string of pearls around your neck to look like you sauntered straight off of the silver screen.
Business Hours
You can even wear your cami to the office! Make your winter workwear perfectly polished and pretty by layering your cami over a knitted black turtleneck and pairing with some crisp cotton or twill paper bag pants. Wear with pointed brogues, a leather satchel bag and a slicked back ponytail for an office hours look that's appropriate but never boring – what more could you want from your workwear? Layer a tailored blazer on top for the colder months.
Date Night
Date night outfits can get somewhat stressful after a while, and if you want to mix yours up a little without having to go all out for a casual dinner, then there's just one answer for you – a cami top, of course! Wear your silky cami with a pair of leather pants, suede heels and a canvas cotton jacket for a daring yet darling get up, or match with some paper bag chino shorts and espadrilles for a cooler, summer style.
Weekend Wonder
Bring some French chic style to your weekend errands with your brand new cami. Simply wear with your favourite pair of trusty blue denim and white sneakers. Level it up with an oversized basket bag, red lipstick, loose waves and a silk headscarf tied in your hair. Your supermarket doesn't know what's about to hit it!
Breezy Beach Wear
You can even take that cami to the beach! Match with a breezy pair of linen pants or shorts in the same colour, white, cream or soft lilac looks particularly stunning. Throw on some cat eye sunnies, add a wide brimmed sun hat and grab your beach bag – you've never seen a beach look so chic, promise!
Ready to fall in love with a designer cami top?