Top Popular Bikini Trends for Your Next Beach Trip
For those who want to head off to the beach to spend their next summer holiday or indulge in beach activities along with friends or partner, rest easy knowing the selection ahead of a wide variety of bikinis and one-pieces available on the market. 
Yes, ladies, summer can't start without some new beach swimwear to strut. So, why not go shopping in advance to avoid the hassles at the eleventh hour. Get yourself a fantastic ribbed swimwear to boost your personality or a one-piece swimsuit for a timeless look. Here are the top 6 new swimwear styles to try this summer.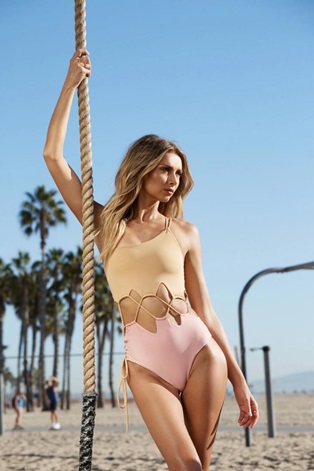 Get Ribbed with Classic Ribbed Swimwear for an Added Boost of Support:
Enough of fits, cuts, prints, and designs! For your next beach trip, try on robbed swimwear styles for revitalized beachside styles. The brand-new ribbed bikinis offer an abundance of support, structure, and style, accentuating your curves. From sunbathing to snorkeling, beach volleyball wakeboarding, wave running, and oh, so much more, you can't look any better than you should in ribbed swimwear. 
The One-Piece Swimsuit for Timeless Look:
You can't believe how it is going to define your beauty pleasantly. Hold on. We are not talking about those boring stuff. No way! With one-piece swimwear styles, you can't just go wrong. From straps and cut-outs to swooping backs, lace-up necklines, and more, one-pieces will never go out of style. 
High Waisted Bathing Suit Bottoms : See more from here
Spread Warmth in Color Block Top:
The newly fitted bandeau bikinis featuring three-color block front panels and adjustable shoulder straps are a must-have within your beach wardrobe. These bikini tops and bikini bottoms for women leave it to the imagination, offering optimal coverage both at the bottom and the top. 
Fitted Brazilian Bottom with Scrunch Back and Ruffle Side Detail:
If you are searching for a bikini that is going to turn you into a flirty beach babe, look no further than the fitted Brazilian bottom with scrunch back and ruffle side detail. This style gives you slightly less coverage than your regular bikini bottom as it shows more of your new bum. 
Turn Heads with Strapless Top:
While you may appreciate a good halter or a classic triangle top, a strapless top is the most versatile around. Make a splash this session with elegant strapless bikini bathing suits flattering your body type. With adequate support and structure, bandeau can be a great strapless swimsuit choice. These simple, strapless bikinis are available in a variety of styles, colors, pattern, and textures, enabling you to stay secure.
Slip-on the Ruby Bottoms and Slide Back into the 90s:
If you want to get back into the 90s, slip on the Ruby bottoms with alluring V-shape and cinched sides. Available in small, medium, and large items, these bottoms are sure to complete the look for your next pool or beachside sunbath.
Play On With Scoops, Asymmetry, and Cutouts:
Add an edge to your summer style in this season's wide range of scoops, asymmetry, and cutouts. The pattern will make your body appearance look fuller and flatter.
Try on Knot Top and Turn Their Heads:
Summer is the best season to unwind and relax. Jet off to the distant beach to explore conglomeration of cultures. Irrespective of your body shape, you can pick up knot top and enjoy the sunshine.
Revamp Your Personality with Ruffles and Frills:
For those looking to add an extra dose of feminine touch to your appearance, ruffles and frills are the top choices. This girly swimwear will add an edge to your beauty, revealing more of your body.
Spice Up Your Looking With Smocking and Ruched Textures: 
For a sweet and thoroughly summery look, opt for swimwear that features puckered fabrics, smocking, and ruched textures. Get ready for your next beach vacation and pick up the right fit to add an extra dose of sexiness to your appearance. 
Regardless of what style or texture you choose, be sure to select the right fit and size that suits you the best. Keeping in mind the shape and volume of the body, the correct choices should be made. 
Summary: The secret for flaunting the perfect beach look is choosing the right sort of swimwear for you.This definite guide is aimed at keeping your apprised of the latest trends that are ruling the bikini world.