Why Would You Choose Gemstone Rings?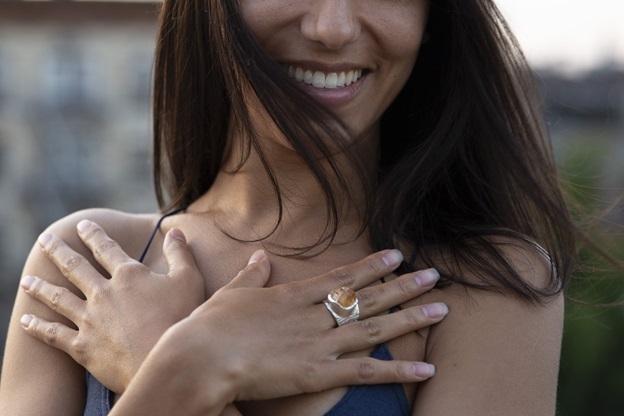 Image credit: Lassanai
Deciding on the style and feel of your new ring is a big one! You want to be entirely sure that the style that you go for is going to blend seamlessly with the rest of your jewelry collection and your overall wardrobe. It also needs to align with your tastes and preferences in the long run. With all that in mind, you'll need to have a good think about whether the style of ring that you're considering is right for you! Gemstone rings are beautifully varied, eclectic and unique. Here are just some of the benefits of choosing a gemstone ring for your next jewelry purchase…
Individuality                                 
The uniqueness of gemstones is what makes them so mesmeric and eye-catching. Shopping from smaller designers that produce hand crafted creations means that you'll be benefiting from the variances that raw cut gemstones can offer. Different edges and corners within the stone will interrupt the light passage and create stunning glimmers of hue in your ring. Each organic stone will look different, meaning that your new ring will be one of a kind and individual to you. This kind of individuality and variation is one of the most beautiful things about gemstone jewelry.
Quality
Organic gemstones that are sourced ethically, pretty much guarantee perfect quality. Stunning stone jewelry that's high in quality often comes with a hefty price tag, but that doesn't apply to all gemstones. You can secure yourself a shining, unique gemstone ring that lasts you for years and years to come, without having to splurge your entire savings. Gemstones that are set in solid sterling silver will give you a lasting piece that stands up against daily wear and tear. For a ring you can treasure forever, there's nothing better than a gemstone.
Sustainability
Again, this is a question of shopping from boutique, responsible businesses that are committed to creating beautiful jewelry that's kind to the environment and to the people who make it. Shopping for organic gemstones that are responsibly sourced is a wonderfully natural and sustainable way of adorning yourself. Sustainability and ethical practices really should be at the forefront of your decision making, so factor this in when you're hunting for your dream gemstone ring.
Variability
Gemstones might be incredibly striking, but that doesn't mean that they don't harmonize beautifully with all kinds of different jewelry, metals and stones. Mix and match your gemstone ring with simple bands, chains and other stones such as diamonds to create an eclectic ensemble. You can, of course, also wear your ring alone and let that personality shine in a more minimalistic fashion, if that's more your style. The variability that gemstones offer make them perfect for investing in – you'll get so many different looks and aesthetics out of just one gorgeous gemstone ring!
Timelessness
Gemstones will never, ever go out of style. Something about their raw, organic nature makes gemstones feel both contemporary and mystically ancient all at once. Stones have been used to craft meaningful, striking jewelry for centuries, so it's safe to say that they don't really pose the risk of going in and out of fashion! Searching for timeless items means that you're getting endless wear out of your investment and that you can put your money into quality pieces that are going to stand the test of time.
Energy
Lastly, energy. Gemstones that are sourced from the earth will often carry the healing properties and powers of the terrain from which they were pulled. Some stones charge you with energy and confidence, others bring peace and healing. Look into the unique properties of the stones that you gravitate towards to learn how your jewelry can give back to you while you wear it.