The way we appear, apart from our conduct, plays a significant role in defining how we are perceived. As a professional, you know that your attire and the essential accessories say so much about you and your character. For that matter, the first impression is everything and other than your suit and tie, it's the watch that puts the finishing touch to your personality.
Buying wrist watches is a thoughtful task. Basically, you are purchasing an instrument that subconsciously depicts your temperament apart from imparting utilitarian benefits. And colours are foremost factor in creating that image. While the strap of the watch garners much attention, the colour of the dial sets an image in the mind of watcher without so much as a word.
We bring you watches with blue dials that represent the serenity and elegance of your thought. 2018 is officially the year of blue and it seems that there wasn't a year when blue watches were not in style. The fact that blue is a primary color, makes it versatile, leaving you with the prerogative of choosing this dial for most of your outfits. Let's take a look at 5 amazing watches with blue dials:
Omega Speedmaster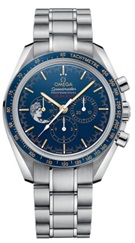 Why not go for a brand that exudes taste and luxury like no other? Omega has been in the reputable watch assembly for a while and it's here to stay. Something similar can be said about its Speedmaster collection. The blue dial gives appealing contrast against the silver of the stainless steel. It will surely complement your brown blazers or trouser. The chronograph watch, if you're wondering, has been worn by Buzz Aldrin to Apollo 8 mission. The blue dial gives great depth to your wrist apart from adding a pop of colour.
Rolex Submariner Date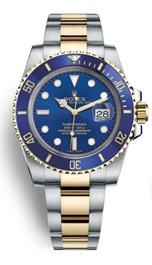 All one can and should say about a Rolex is well… nothing. The name is enough. Rolex is, without doubt, or objection, the most celebrated watch brands of all time and the Submariner Date is a simply sublime model. The luminescent hour markers on the radiating blue dial gives spellbinding contrast. The oyster bracelet created with aesthetic and function in mind is particularly comfortable. The watch is virtually unresponsive to shocks and temperature fluctuations since it is equipped with the Parachrom spring.
Jaeger LeCoultre Polaris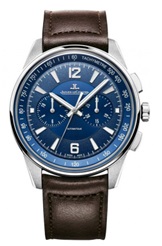 The rich, deep blue dial is suitable for formal occasions as compared to lighter counterparts. The Jaeger LeCoultre Polaris works very well as a formal watch and more so with the brown leather strap which gives great contrast to the dial. However, the watch isn't entirely formal as the brown strap suits semi-formal occasions as well. The Jaeger LaCoultre Polaris with two dials and the prominent 12 and 6-hour markers present a great aesthetic value. Watchmakers affirm that a blue dial catches light better than black and white counterparts.
Breitling Superocean 2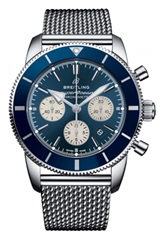 Watches by Breitling are fine examples of Swiss craftsmanship. Every major watch to leave their factory is equipped with chronometer-certified movements. The prominent hour and minute hands look quite stylish against the royal blue dial. The unidirectional rotating bezel adds a rather rugged element to the otherwise subtle features of the watch. Breitling watches are crafted for adventure packed activities and they are as accurate as time itself.
Hublot Classic Fusion Chronograph Titanium Blue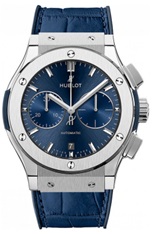 Watches with a deep blue dial and a matching strap make for perfect formal watches. The Hublot watch follows classic design conventions and yet it is unique owing to its date and chronograph crowns. The date window at 6 PM only adds to the rich and textured look of the dial. Hublot watches are crafted with the traditional concept of fusing art in the realm of Horology. The rear end of the second hand gives testament to the unique yet classy intricate design elements that make this one of the best watches with a blue dial.
These instruments work as well as watches for boys as for men. If you're a watch connoisseur, you probably have one with a blue dial and if you don't, you can check out the wide catalogue of watches at Ethos Watches.