Indulge in The Soft Pleasure if Velvet Sarees
Velvet is a plush fabric that is loved my most women globally. There is a royal aura associated with the velvet fabric. This fabric remains crease-free and drapes amazingly. In India, this fabric frequented the royal treasury and was used to make the garments of both kings and queens. It was revered alongside muslins and was considered as worthy, if not more. 
The Importance of Velvet Sarees
When you think of a rich saree, the name of velvet is bound to pop up in your mind. These sarees simply look fabulous. However, India is a tropical country, and the velvet fabric is not ideally suitable for the Indian Summers. But if you want a saree for winter, then nothing can be better than a highly embellished velvet saree. 
If you take into account the ethnic fashion scenario in our country, you will find a number of divas adorning the plush fabric of velvet. Latest designer sarees are mostly either velvet or net. Velvet lost its popularity in the 90s, but after 2010, it is back with a bang and is here to stay.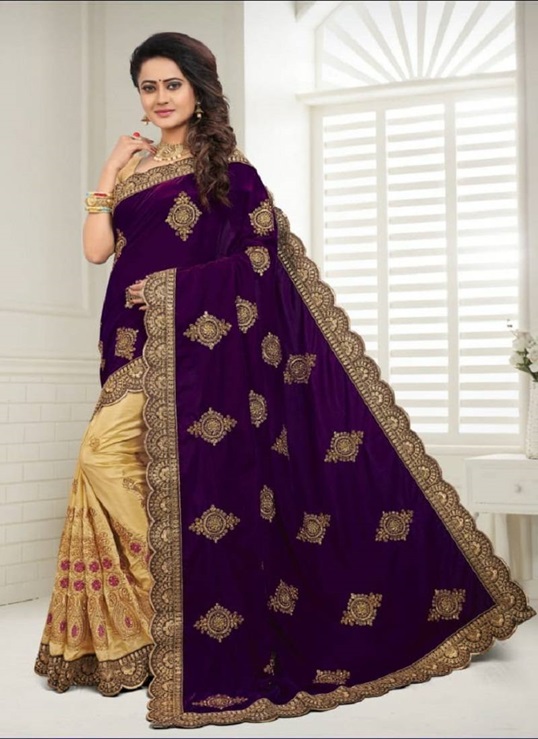 From the charming Anushka to sensuous Rekha, every B-town diva loves velvet sarees. Various models who walk the ramp look fantabulous in the latest designer sarees in velvet. 
These sarees have an exquisite air. They do not need much effort in being draped. Another added advantage of wearing a velvet saree is that, as they have an inherent sheen, you will not have to wear much jewellery. Just add a pair of ear-studs, dab some lipstick on, and you will look like a beauty from the ethereal realm. 
Know Velvet Sarees a Little More
Velvet sarees come in an array of variety. In this gamut, you will find cotton velvet, rayon velvet, silk velvet, etc. 

In making a saree, mostly a blend of the cotton and the silk type velvet is used. 

The lighter the velvet is, the better is the quality. 

Velvet sarees look best with a touch of bling on them. 

Latest designer sarees feature a combination of velvet and another fabric. 
Exquisite and Eye-Catching Designs of Velvet Sarees
Velvet Sarees with Stones:- If you want the limelight to be solely on you, wear a deep colour saree with stonework. It will make heads turn and will garner you endless compliments. 
Plain Velvet Saree:- It is a supremely classy saree. And if you can carry it right, you will look sheerly elegant.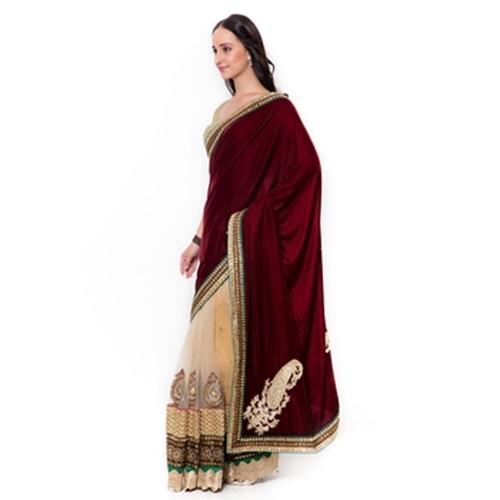 Velvet and  Net Saree:- This is one of the variations of latest designer sarees. These sarees mostly feature nets and velvet together. Generally, the part containing the pleats is made of net, that has buttas and embellishments. The upper part forming the pallu is made of velvet and is often designed with a wide border. 
Latest Designer Velvet Sarees:- There are many types of designer sarees in velvet. In this category, you will find various innovative designs and motifs. Some designers also pre-stitch the saree so that the pleats and pallu sit just right.
Velvet Saree with Lace Border:- The fabric of velvet is considered plush, while laces are known for being sensuous. Put together on the same saree; it is a piece to die for. Team it with a designer blouse and look like a goddess. However, make sure that the saree does not have too many embellishments, else it might look tacky. 
Velvet & Silk Saree:- This is the combination of two fabrics that have frequented the royal house. They complement each other and works superbly well if they are in the right contrast and design.