Best Sarees Spotted On Bollywood Actress Vidya Balan
Sarees that has drawn main attention in Bollywood is Vidya Balan. The actress has a curvaceous figure and this is what made her a beautiful model for Indian ethnic dresses. From her Bengali like face and her exemplary role in Parineeta that most of the audience thought her as a Bengali actress. With many super-duper box office hot movies like Kahaani, Parineeta, Apki Sullu and many more, the actress also showcases her ethereal choice in saree section. Be it cotton sarees or chiffon sarees, she knows exactly how to pour the X-factor in her eclectic saree appearances.
Aren't they all scintillating and binding our heart like forever? Here are the best ranges of sarees that are spotted on Bollywood diva Vidya Balan. Inspire your mood today and go out for saree shopping:
Handprinted Kalamkari Saree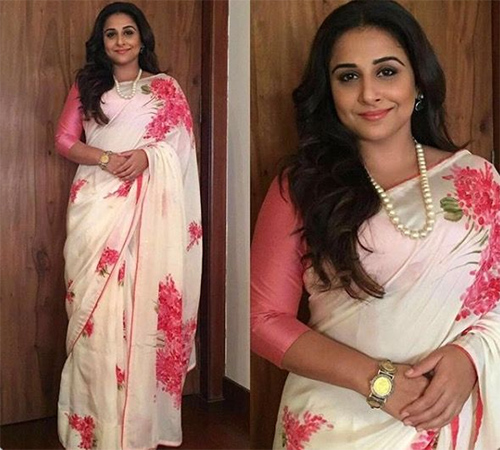 Kalamkari is itself a brilliant work of craftsmen and their creativity. The neatness of their hands and talent that has been well imbibed in their heart can be vehemently seen with these sarees. Well, who will know better than Bollywood Diva, Vidya Balan? She can't lose the chance of owning this type of beautiful pieces and embraced in a memorable event. She matched her grace with a fuchsia pink coloured blouse and same coloured lipstick.
Floral Chiffon Saree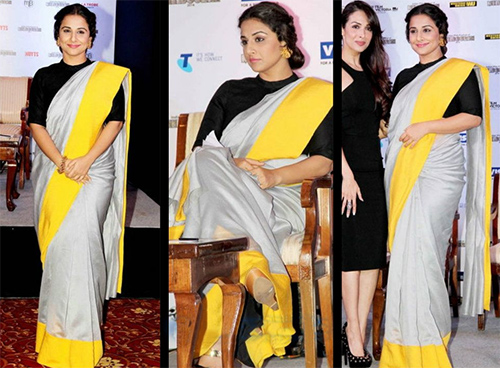 Floral is the symbol of love of purity and most of the women love to embrace this design category. Wear this floral ivory coloured saree with much grace and panache just like the diva herself, Mrs Balan.
Her confidence can be well seen on her face and pearl's necklace that embraced her neck and beauty of the chiffon saree. She chose nude makeup, small dark earrings and blush lip tint. She finished off her look with the beautiful metallic watch.
In Payal Singhal Saree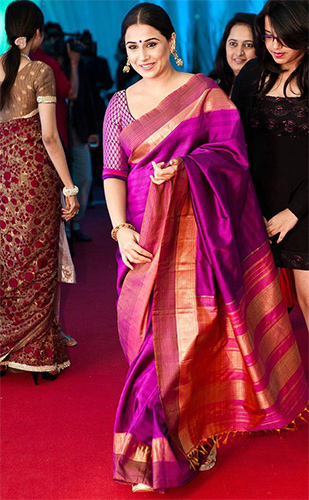 How can she hold this much of simplicity with full confidence every time? She is incomparable when appearing in Indian ethnic dresses. Just look at this Payal Singhal's designer saree. Come in steel grey and yellow on the border, this saree is the sunshine of every dim party. And she did the same!
Unlike starchy cotton sarees, this saree is purely light as a feather and can be worn at any season. She paired the saree with gold earrings and bracelet. And the Z-black blouse is a perfect companion for the steel grey & yellow saree.
Gorgeous Kanjeevaram Sarees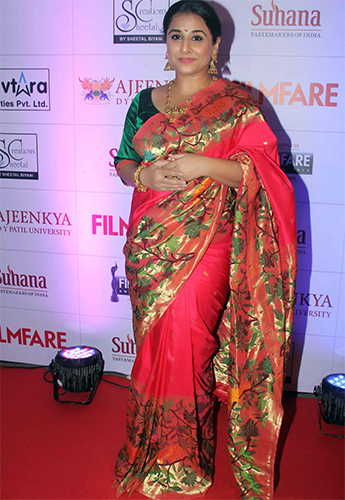 This saree is a 100 shade story of purple; isn't it? Hats off to Vidya Balan and her queenly choice of this Kanjeevaram! Get a break from your easy to handle chiffon sarees and let embrace your Indian beauty side in this royal Kanjeevaram saree. This saree is a sure shot to make your day like in Cinderella's story and never mind, you do not have to wear dozen of jewellery or accessories to elevate the look; it will simply do the task!
Another Kanjeevaram Show
How about Kalamkari design over beautiful kanjeevaram fabric? Vidya Balan has shown many of them but this one is my personal favourite among all. The exquisite floral work and the blush colour are both exemplary.